Micro Nutrient Content of Rotala ssp. 'Nanjenshan'
Ever wondered what the micro nutrient content of some aquatic species are under different conditions? Here is a small report on the variances of micronutrients in dry weight on Rotala ssp. 'Nanjenshan'.
---
Online Resources
Here is an ever increasing list of useful sites that I have come across for aquarium plants, or that other people have submitted to AquaFlora Nurseries.
Echinodorus rigidfolius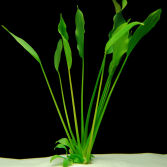 Echinodorus rigidfolius is also known as the Rangeri Sword Plant. It grows fast, and is undemanding. It can grow up to 50 cm in height and spread out to 40 cm in width under good growing conditions. Because most Echinodorus species can grow rap...
---
Tonina ssp. 'Manus'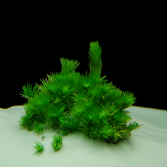 Tonina fluviatalis belongs to the family Eriocaulaceae and is very closely related to the Eriocaulon species evolutionarily and in water requirements. Its narrowly lanceolate leaf shape that alternate on its stem to result in rosettes and light gr...
.
Abbotsford BC.
V4X 2C5
604-857-5755