Micro Nutrient Content of Rotala ssp. 'Nanjenshan'
Ever wondered what the micro nutrient content of some aquatic species are under different conditions? Here is a small report on the variances of micronutrients in dry weight on Rotala ssp. 'Nanjenshan'.
---
Online Resources
Here is an ever increasing list of useful sites that I have come across for aquarium plants, or that other people have submitted to AquaFlora Nurseries.
Ceratopteris thalictroides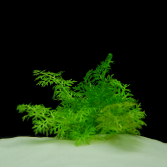 This well-known aquarium fern goes by many common names such as water sprite, Indian fern, water fern, Oriental water fern, and water horn fern. It grows in swamp forests, marshes, and ponds. It is also found in stagnant bodies of water and even i...
---
Bacopa monnieri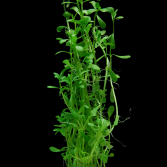 Just like its relative, Bacopa caroliniana, this aquarium plant is also a perennial creeping herb growing mostly in wetlands and muddy areas. It is commonly called coastal water hyssop or thyme-leafed gratiola. It also possesses the same thick suc...
.
Abbotsford BC.
V4X 2C5
604-857-5755